Initial release

:
July 11, 2014 (

USA

)
Director

:
Shashank Khaitan
Costume design

:
Nikita Raheja
Music composed by

:
Sachin-Jigar

,

Toshi Sabri
Genres

:
Romance Film, Comedy, Drama
Cast
:
Varun Dhawan, Alia Bhatt,
Ashutosh Rana,
Siddharth Shukla
When Kavya Pratap Singh, a chirpy, yet feisty girl from Ambala, decides to make a trip to Delhi for her marriage shopping, she meets a young, Delhi lad, Humpty Sharma. Humpty's father is the owner of a campus bookstore, where Humpty and his two best friends, Shonty and Poplu, have grown up together and which their hangout spot remains even now. Kavya is unattainable for Humpty initially, which makes her even more endearing to him. But being a Delhi boy, he is not the one to give up so easily. With some help from his two best friends, he finds out all about her and through an interesting turn of events (including a ploy to save Kavya's friend Gurpreet's marriage), they start growing closer to each other.


The more time they spend with each other, their love hate banter grows, but their chemistry is apparent. They are both different, yet very similar as people. They are young, feisty and carefree, and it's the spurge of life which attracts them to each other.

As per plan, once Kavya's trip ends, she heads back to Ambala, knowing very well that her father, the very strict, yet loving Mr. Singh, would never accept her love for Humpty. But even though they both weren't looking for love, love happened. So Humpty, accompanied by his two friends, decides to go get Kavya.

That's the beginning of a journey for him that he wouldn't have imagined undertaking even in the wildest of his dreams. Humpty, against all odds, decides to convince Kavya's family to agree to his alliance with her. How he does this and if he succeeds in his mission forms the rest of the story.
July 17th was one of my close friends birthday, so we celebrated
her birthday and went to movie hall to watch "Humpty Sharma ki dulhania".
"Humpty Sharma ki dulhania" is a modern adaptation of classic yet irony movie "Dilwale Dulhania Le Jayenge", where we can observe some more twist and turn in the second half and some generational shift. The charming chemistry between the main protagonists compels you towards the screen.
Except "Saturday Saturday", "samjhawan" and "Lucky tu lucky me" all the other songs could not shed a spell on us.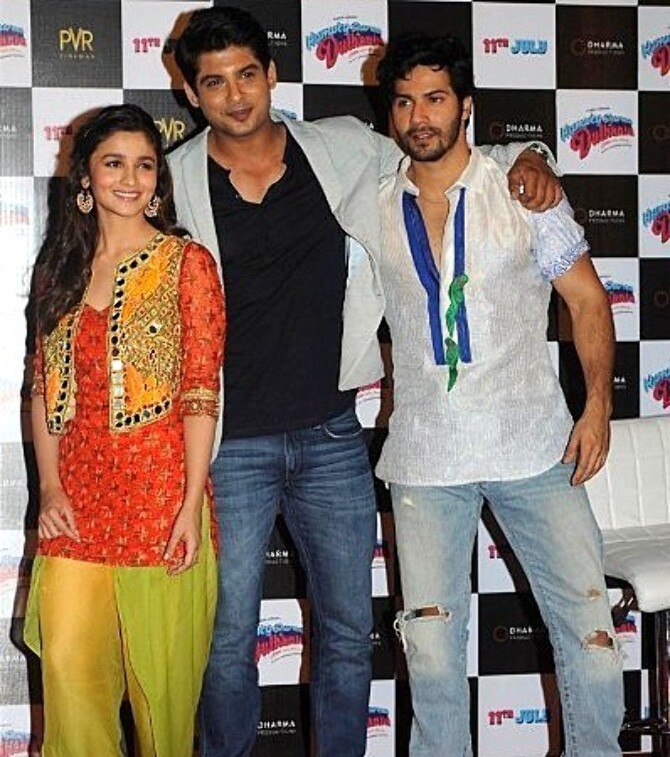 All the characters are well portrayed.

Varun Dhawan
was amazing throughout the movie with an eccentric display of typical c

hichora

mannerisms; Varun casts a spell in his performance and managed to steal the show by his performance. Another amusing highlight of the movie is Ashutosh Rana, who plays Kavya's father was grave and serious in this movie; his protective daddy act in the film is refreshing and is balanced by him with an appropriate amount of intensity and humour

.
Alia Bhatt was the bubbly and free spirited ambala girl in this movie. She is full of energy and surprises, but some of her dialogs were seemed rushed.
Siddharth Shukla
the Balika Badhu man was sharing a little screen. It would be fun to watch him more in this movie.
If you are a stick-in-the-mud

DDLJ

fan and wish to see the love story with a stroke of modernity and punch added to it, then watch

Humpty Sharma Ki Dulhania

. I will give it 3.5 stars out of 5 stars.